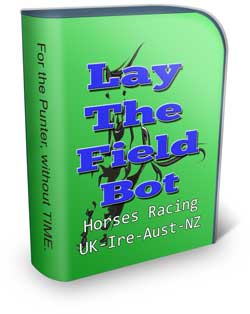 Lay the Field Betfair Bot, All Automated
We all know that Laying one runner is a good way to profit by opposing a horse that you don't think will win, but laying more than one runner can significantly improve your chance of profiting from a race.
Our Brand New – Lay The Field Betfair Bot is based on the same concept.
The Lay The Field is one of the oldest used on Betfair but it still works well to this very day. This is not a strategy that will stop performing anytime soon since as long as sports such as horse racing have competitive races then you will see strategies such as Lay The Field work.
Lot of punters on Betfair still do lay the field betting and it works for them. With the bot, you can consider courses, field size, prices, days since last run, time of the day and even race type , class of the race etc. to work out any pattern to make long term profit from this amazing bot.
It will help you place bets on all the horses in any race on Betfair (for UK/Ire and Aus/NZ) with any price you want. It will try to get them matched before IN Play and rest of the unmatched bets will try to get matched during In Play racing.
Hence no manual effort at all.
You can decide fixed stake or % bank staking.
Bot will auto-reload the next day racing and will continue to bet on selective races (based on your settings) for your Lay the Field strategy.
Most Betfair traders use Lay the Field strategy 3-4 times daily and they can't use it consistently as doing it manually takes time but we have the solution for it which can make it run in Auto mode not only for days, but for weeks etc.
http://www.laythefieldbot.com/
With Lay the Field Bot, you can select any price you want your bets to get placed, like you can avoid laying at 1.5. Maybe move to 1.51 or 1.52? Other manual in-play racing traders will go for round numbers that end in a 0 or 5. Be different. Split seconds matter in-play. Yes, with Lay The Field bot does all that in less than a micro second.
With this bot, you can do extended Lay the Field strategy as well, you can select range of horses between any price range (say 10 to 20.0) and place lay bets at any price you want to.
http://www.laythefieldbot.com/
Like always for our regular clients, we are offering early bird offer for first 25 buyers (extra 1 year license – so 2 year license at even discounted price of 1 year)
And yes, you can use upto 5 different lay the field strategies at same time with 1 bot. it can't get better than this one.
See the video showing how the bot will work and it features.
http://www.laythefieldbot.com/
Please Block your license & Don't lose out on this amazing early bird offer which is just 8p per day.
http://www.laythefieldbot.com/
Thanks, as always for your support. It motivates us to work on more innovative betting solutions.
Cheers
Michael