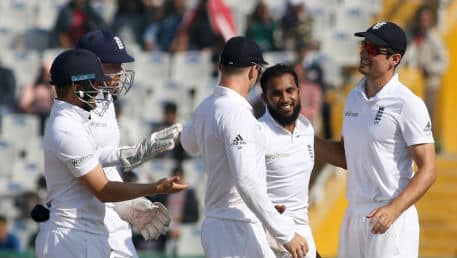 England Tour of India 2016/ 2017
With England already having lost the test series, there is still a lot of cricket still to come from their tour of India. Next up are some one day internationals, followed by a Twenty20 series.
England were looking to overcome the disappointment of drawing in their recent test series against Bangladesh. That hasn't happened, and whilst England have shown instances of quality, this has been limited to particular sessions, resulting in them losing this series.
The fifth and final test match starts on Friday, and England will want to avoid a whitewash in Chennai. It is expected to go ahead, despite awful weather in recent days. Cyclone Vardah has generated winds 100mph, causing damage to the ground, but it's understood that will be fixed, and the ground is looking in good shape.
Indian are favourites though, and good reason. Not only because they've won the series, but also because they're the world no.1 test match team.  Victory in Mumbai was the 17th consecutive test win, and cemented the five consecutive series win. That is impressive form.
Another talking point of this test match series is the introduction of DRS (decision review system). India had resisted it, holding concerns about the technology's ability to accurately predict the projection of the ball. However, they agreed to trial it and evaluate its performance, and to be honest, it hasn't been without its controversies the test matches.
In the fourth test, Stokes looked in disbelief as he got dismissed by DRS, when it appeared as if the ball nicked the bat, despite the sound occurring at the same time as the boat hitting the ground. Teams are limited to only two reviews per innings (a review credit is now used however, when the appeal is successful). In the same test match, England found this frustrating when Yadav was given 'not out', and they were unable to appeal this decision  as they had used both of their appeals. Technology later showed that England were right, and Yadav was given an extra lifeline.
After the fifth test match, it will be clearer whether India will support the technology being used in future tests.
Where to watch the England tour of India live on TV
Sky hold the rights for the tour, with all of the series being shown on pay-for television. Fans will have to be up early in the morning. Coverage starts at 3:30am for the test series! Here are the dates for the various series:
Test Match Series
Wednesday 9th – Sunday 13th November
Thursday 17th – Monday 21st November
Saturday 26th – Wednesday 30th November
Thursday 8th – Monday 12th December
Friday 16th – Tuesday 20th December
One Day International Series
Sunday 15th January 2017
Thursday 19th January 2017
Sunday 22nd January 2017
International Twenty20 Series
Thursday 26th January 2017
Sunday 29th January 2017
Wednesday 1st February 2017
India vs England Betting Odds
At time of writing, markets are only available for the final fifth test.
India to win the final test – 1.57
Final test to end in a draw –  4.00
England to win the final test – 6.00
India vs England Betting Offers
Cricket doesn't draw the punters like other sports does, and bookmakers don't offer as many money back specials as they do for other sports. For the latest, most up to date offers for England's tour, then check out our cricket offers page.
Accumulators – Both Betfair and 10Bet have offers that apply to cricket. Betfair have their 'edge' offer, which essentially is acca insurance. Players can choose to have cash back if their acca fails by one selection. Otherwise, 10Bet offer a bonus on winnings with a minimum amount of selections.
Paddy Power – They are one of the few bookmakers to have an offer for cricket, but it applies to Big Bash only.