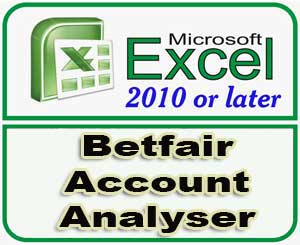 Have a betfair account, you NEED this 101%, See YOUR OWN Hidden Profit
Its your Gold only in your betting account
It won't be a lie if I tell you that your betfair account has some gold information which can be very useful for your own betting purpose.
Yes, that is your betfair account – historical statement, which if simply downloaded has of very little value as it does not give any critical stats.
We are launching new tool today – betfairaccountanalyser
With Betfairaccountanalyser it will be completely changed now and you will see how the betfair account statement can be used from today onwards. With Betfairaccountanalyser, you can see where you are making good profit and where you are losing a bundle.
Just imagine under 10 seconds at a click of a mouse, all your critical betting personalized stats for your betting history will be available in front of your eyes and you can make some important decisions based on that.
You will get a visual graph where you are making money and where you are losing it. So, if you cut your losses from the losing ones, it will only increase your profit overall .
Betfairaccountanalyser works for horses, greyhounds and Football.
Click Here and see what Betfairaccountanalyser can do it for you.
www.betfairaccountanalyser.com
Your past betting can and should be a guide to your future betting ( with improved results).
First 50 clients will get lifetime access to this spreadsheet at early bird price
Get it Now, before it is too late – if you are betting without it, you are missing your own personalized betting stats which you need for your own bettinghttps://www.betfairaccountanalyser.com/
Thanks for your continuous support
Cheers
Michael