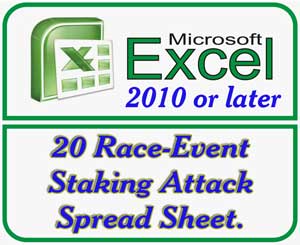 Brand New Staking plan, power of 4845 combinations in just 20 races, Early bird offer inside?,
Hi ,
Yes, you got it right. Today, we bring you a brand-new staking plan which covers 4845 combinations in just 20 races.
You don't have to win in ALL 20 races to make money from these combinations. You don't need huge dividends to make profit. For example, just 13 dividends of $/ £1.7 from the twenty races would return a profit of $/ £112.00.
You can use 20racestaking plan in any sports event – be it racing, football, tennis, greyhound etc.
20racestaking plan was developed 20 years back in Australia but was sold only to 10 lucky clients.
We always work hard to bring best to our clients – so, after lot of workings, re-workings, beta testing, we managed to solve big puzzle and now, it is exactly working the way it used to work 20 years back and here is the 20racestaking plan
It has very simple interface, you simply need to input your selection and the spread sheet will tell you how much stake has to be bet upon to get the MAXIMUM return.
Close to 5000 formulas working hard in spreadsheet. Spreadsheet will do all hard work for you.
See how with bank of only $48.5, with only 11 winning bets out of 20, 20racestaking managed to 113.76% return on our bank ($48.5) which means 64.87 profit.
See bet by bet details here from our 1st test of this amazing spreadsheet
Is it the best staking plan so far? Probably yes
Get onboard and grab your copy quickly as we are selling it at very low price for our first 50 regular clients.
Do this investment today and get this turbo charger to boost your profits
The power of 4845 combinations in your betting arsenal
Chances are if you don't buy it now, you will miss the early bird low price – so, don't delay and act fast
thanks for your support
Cheers
Michael