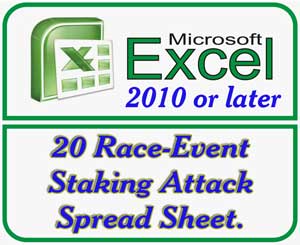 Thanks for your support on new Staking plan, price is going up tonight, 18 Nov 2019
Hi ,
Thanks for the good response on 20 Race Staking Attack.
One in every 10 people that went to website have purchased the sheet since launch.
On the day of the release it converted 100 into 3,500 in just 3 hours, can't expect it to happen every day.
Price Rise at mid night UK time tonight
If you are still sitting on fence, grab it now at £ 24.97
Use 20racestaking plan in any sports– be it racing, football, tennis, greyhound etc.
Close to 5000 formulas working hard in spreadsheet
See bet by bet details here from our 1st test of this amazing spreadsheet
Is it the best staking plan so far? Probably yes
>>>>>>>>>>>>>>>>>>>>>>> Diabolical Staking >>>>>>>>>>>>>>>
For Diabolical staking fans – Online version for Diabolical Staking available now
https://www.diabolicalstaking.com/
thanks for your support
Cheers
Michael