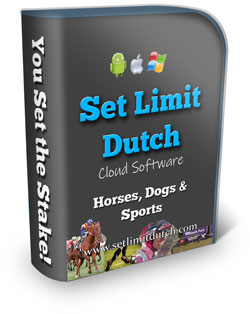 Get extra edge with these simple money management softwares,
Hi ,
Something that clients have been asking for, to add an extra string to their betting bow.
That is Dutching
So, we have created a cloud-based Set Limit Dutch software, that will enable you to
set the spend amount, and use as a stand-alone stake tool or more powerfully add to your staking plans.
SetLimitDutching is a tool that you can use on phone, tablet or computer.
We have last few copies at £14.9 for a 5-year license.
Or cut & paste http://setlimitdutch.com/ms.htm
Lay Cover Staking
Lay Cover Staking This staking plan gives you at least 40% more profit as compared to flat Level staking.
See how we made $200 profit in 8 hours on a bank of $500.
Use Lay Cover Staking on Horses, Greyhounds and Dogs, this tool gives you the flexibility to create different profiles and also stores records of previous bets
Check out the videos here: – Lay Cover Staking
Daily Return Generator
Smart money management tool – Daily Return Generator allows multiple staking series to run at same time.Works on all sports, casino games, horses. Very simple interface
So, you have 3 staking softwares in this email
Thanks for your support
Cheers
Michael
Alert: Rate The Races, 10th Dec 65.98 profit points Click Here
Also, Click here to see our world best collection of staking plans