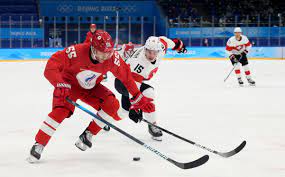 Slap Shots and Showdowns: Exploring the World of Ice Hockey and Where to Follow It Online
Ice Hockey: A Thrilling Sport Played Around the World
Ice hockey is a popular winter sport that is enjoyed by millions of people around the world. It is a fast-paced, physical game that requires skill, strategy, and teamwork. The sport is played on ice with two teams of six players, who use sticks to shoot a small rubber puck into the opposing team's goal. The game is known for its physicality and intensity, with hard hits, fast skating, and quick puck movement.
Where is Ice Hockey Played?
Ice hockey is played in many countries around the world, with the highest level of competition found in North America and Europe. The National Hockey League (NHL) in North America is the premier professional ice hockey league in the world, featuring teams from Canada and the United States. The NHL season runs from October to June and culminates in the Stanley Cup playoffs, which is the most prestigious trophy in the sport.
In Europe, there are several professional leagues, including the Kontinental Hockey League (KHL) in Russia, the Swedish Hockey League (SHL), the Finnish Liiga, and the German Deutsche Eishockey Liga (DEL). Many of the top European players also compete in international tournaments, such as the Winter Olympics and the World Championships.
Where to Follow Ice Hockey Online?
If you're a fan of ice hockey, there are many websites that provide coverage of the sport. Here are some of the top websites to follow for news, scores, highlights, and live streaming:
NHL.com – The official website of the National Hockey League provides news, scores, stats, and video highlights from all of the NHL games. You can also purchase tickets and merchandise through the site.
ESPN.com – ESPN is a popular sports network that provides coverage of the NHL, including news, scores, and analysis. They also offer live streaming of select games through their streaming service, ESPN+.
TSN.ca – TSN is a Canadian sports network that provides coverage of the NHL, as well as other Canadian hockey leagues. Their website offers news, scores, and analysis, as well as live streaming of select games.
Eurohockey.com – Eurohockey.com is a website that provides coverage of European hockey leagues, including news, scores, and standings. They also offer live streaming of select games.
IIHF.com – The International Ice Hockey Federation (IIHF) is the governing body for international ice hockey. Their website provides news, scores, and schedules for international tournaments, including the Winter Olympics and World Championships.
In conclusion, ice hockey is a thrilling sport played around the world with high levels of competition in North America and Europe. If you're a fan of the sport, there are many websites to follow for news, scores, highlights, and live streaming. Whether you're a casual viewer or a die-hard fan, there's something for everyone in the exciting world of ice hockey