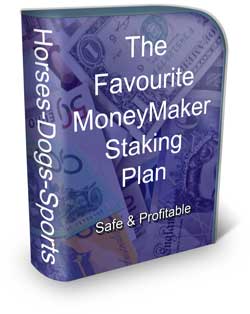 Boost Your ROI and Minimize Risks with Our New Staking Plan: Favourite Money-maker
Dear client,
Are you ready to take your sports /horse/greyhound betting to the NEXT level and start winning big? Look no further than our Brand New Favorite Money Maker staking plan!
We have developed this cutting-edge staking plan that can help you maximize your profits and minimize your risks. With Favorite Money Maker, you'll approach your betting like a running successful day to day business
Consistent Return on Investment: Our staking plan is designed to help you make consistent ROI, no matter what sports you're betting on.
Low risks: Proven risk management strategy to help you minimize your risks and protect your bankroll.
Easy to follow: Favmoneymaker is simple and easy to follow, even if you're new to sports betting.
Also, Don't forget to check out how Dan made $444.40 Profit on 7 Place Bets on 15-Apr-23 using Favmoneymaker plan
Here's what you'll get for " Favourite Money Maker":
A special early bird price that is lower than the regular price
An extended 5-year license on our web-based cloud platform at the price of one year
A lifetime license on our Excel spreadsheet format
50% discount on the Easy Bet Bot Deluxe
Don't miss out on this opportunity to turn your sports betting into a profitable venture with our Favorite Money Maker staking plan. Click on the link below to learn more and sign up today!
Best regards,
Michael