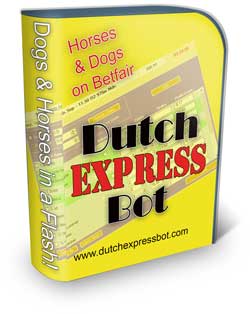 Dutch Express Bot : Brand New Betfair Entertainer bot, Dutch All Dogs & Horses with Insurance
Hi,
Yes, it is THE bot for everyone.
If you have Betfair account, then you should join the party today.
We introduce you to our Brand New – Dutch Express Bot
Dutching on Dogs and Horses is very easy now
You can dutch as low as 50p ( I you can actually bet at 10p too 😊)
Important note: Insurance betting is also enabled along with Dutch
You can place Insurance bets along with Dutch to minimize your losses
You can dutch on all horses and Dogs markets, Both Win and Place
Oh yes, you can place single bets too, if you want to… this bot serves simple betting platform too.
Dutch Express bot – accelerated approach to get the best prices on betfair will amaze you. Bot gets you the best prices on betfair in milliseconds.
See how this made us $17.49 in just 2 hours (today, 10 Oct) at small targets
Forget Netflix, Primes of the world… Dutch Express Bot is more exciting
And yes, we have kept the prices very inexpensive ( Click here to see that)
If you are ever scared of betting on betfair due to lack of knowledge or confidence, this is the ideal platform for you.
Betfair Bot can't be simpler than this and almost risk free to your betting bank as you can bet as low as 50p and at same time, minimize your risk using insurance bets.
I am sure you will love this bot , Have a look now
As always, thanks for your time and support.
Cheers
Michael