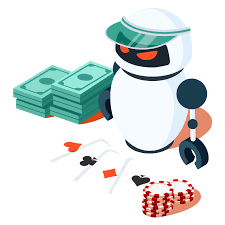 Future of Automated Betting
The world of betting is constantly evolving, and one of the latest developments is the use of betting bots. These are software programs that can place bets automatically on behalf of the user, based on predefined criteria and strategies. The use of betting bots has been steadily increasing in popularity, and it's likely that this trend will continue into the future.
One of the main advantages of using a betting bot is that it can save time and effort for the user. Instead of manually placing bets and monitoring odds, the bot can do all of this automatically, freeing up more time for the user to focus on other things. This is especially useful for those who want to place bets on multiple markets and events, as the bot can handle all of this with ease.
Another advantage of using a betting bot is that it can help to eliminate human error. Even the most experienced bettors can make mistakes when placing bets, such as misreading odds or placing the wrong amount. With a betting bot, all of these errors can be avoided, as the bot will follow the predefined strategy and place bets according to the set criteria.
In addition to these benefits, the future of betting bots is looking bright. As technology continues to advance, it's likely that betting bots will become even more sophisticated, with more advanced algorithms and strategies. This will enable users to make more informed betting decisions and potentially increase their profits.
There are several types of betting bots available, including those designed for horse racing and soccer betting. For horse racing, popular options include ANZ Horse Bot and RaceBase Bot, which use advanced algorithms to identify potential winners and place bets accordingly. These bots can help users to make more informed betting decisions and potentially increase their profits. They can also bet as low as 10p, which makes them accessible to users of all budgets.
For soccer betting, InplayFootballBot and APS Deluxe Bot are popular options, which use complex algorithms to analyze in-play data and identify potential betting opportunities. These bots can help users to take advantage of rapidly changing odds and potentially make more profitable bets. Additionally, clients can select different staking plans such as Stop at a Winner, Level Staking, or Lay Cover Staking, which can help to further customize their betting strategies.
Of course, some bettors may be hesitant to use betting bots, preferring to stick with manual betting instead. However, there are several reasons why clients should consider using betting bots for their betting needs. First, they can help to reduce the risk of human error, which can lead to costly mistakes. Second, they can save time and effort, which can be especially beneficial for those with busy schedules. And finally, as betting bots continue to evolve and improve, they are likely to become an even more valuable tool for those looking to make a profit from betting.
In conclusion, the future of betting bots is looking very promising, and clients who want to stay ahead of the curve should consider using them for their betting needs. With the ability to save time, eliminate human error, and potentially increase profits, betting bots are a smart investment for anyone looking to make money through betting. So, if you're still manually placing bets, it might be time to consider the advantages of using a betting bot instead.
Please have a look on the following bots
https://inplayfootballbot.com/
Cheers
Michael
YOUR TRUSTED BETTING ADVISER SINCE 2007
World No 1 Horse Racing Price Tool for Betfair Prices
GIFT THIS EBOOK ON SECRETS OF GREATEST PUNTERS TO YOUR FAMILY & FRIENDS… PASS THE BELOW LINK… INSPIRE THEM

CHECK OUT OUR AMAZING AUTOMATED BETTING BOTS

http://winningmore.com/auto-betting-software/