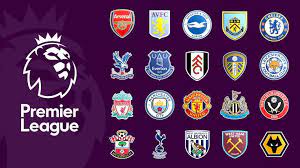 English Premier League – All you need to know..
I. Introduction
The English Premier League is the top professional football league in England and is considered one of the most popular and competitive leagues in the world.
The league was founded in 1992 and replaced the old First Division as the top tier of English football.
The EPL has had a major impact on the growth of football in England and around the world, with millions of fans tuning in to watch games each week.
II. Structure of the EPL
The EPL currently has 20 teams that compete in a round-robin format, with each team playing every other team twice (once at home and once away) over the course of a season.
The season typically runs from August to May, with each team playing a total of 38 games.
The league uses a points system, with teams earning three points for a win, one point for a draw, and zero points for a loss.
III. Teams in the EPL
The 20 teams currently in the EPL include some of the most historic and successful football clubs in England, such as Manchester United, Liverpool, Arsenal, and Chelsea.
Each team has its own unique history and traditions, and there are often fierce rivalries between certain teams (such as the North London derby between Arsenal and Tottenham Hotspur, or the Manchester derby between Manchester United and Manchester City).
The current standings of each team can have a major impact on their financial success and ability to attract top players.
IV. Players in the EPL
The EPL is known for attracting some of the best football talent from around the world, with top players from countries like Brazil, Spain, and France often signing with EPL teams.
Many EPL teams also focus on developing young players from their academy systems, with the goal of producing future stars for both their club and the national team.
Some of the most famous and successful players in the history of the league include Cristiano Ronaldo, Thierry Henry, and Alan Shearer.
V. Broadcasting and Revenue
EPL games are broadcasted around the world, with major television networks paying billions of dollars for the rights to air games in different regions.
The league also generates significant revenue from sponsorship deals and merchandise sales.
This financial success has allowed EPL teams to attract top players and invest in state-of-the-art training facilities and stadiums.
VI. Criticisms of the EPL
Some critics have argued that the EPL's focus on commercial success has led to a lack of competitive balance, with a few wealthy teams dominating the league and smaller teams struggling to keep up.
Others have raised concerns about the impact of the league on grassroots football, as the high salaries and transfer fees associated with top players can make it difficult for smaller clubs and youth teams to compete.
However, the EPL has taken steps to address these issues, such as implementing financial fair play rules and investing in youth development programs.
VII. Conclusion
The English Premier League is a global phenomenon that has had a major impact on the growth and popularity of football around the world.
While it has faced some criticism, the league continues to attract the world's top talent and generate significant revenue for its teams and stakeholders.
Whether you're a diehard fan or a casual observer, the EPL is sure to provide plenty of excitement and drama each season.
Bookies and Football Betting
Bookmakers play a key role in the world of football betting, offering odds on each team's chances of winning a match and accepting bets from customers.
The odds offered by bookmakers are based on a variety of factors, such as recent form, injuries, and head-to-head records, among others.
Customers can place bets on these odds and potentially win money if their chosen outcome comes true.
However, it's important to note that bookmakers always have an edge in the long run, as they adjust the odds in their favor to ensure a profit. This is known as the "overround" or "vig" (short for vigorish).
To make money through football betting, bettors need to consistently find and place bets with positive expected value – that is, bets where the potential payout is greater than the true probability of the outcome occurring.
This can be challenging, as bookmakers are skilled at setting odds and have access to vast amounts of data and expertise.
Some successful football bettors use statistical models and data analysis to identify value bets and make more informed decisions.
Others rely on experience and intuition, or specialize in certain types of bets, such as betting on goalscorers or the number of corners in a match.
Regardless of the approach, it's important for bettors to stay disciplined and not let emotions or biases cloud their judgement when placing bets.
Responsible football betting can be a fun and potentially profitable way to engage with the EPL, but it's important to only bet with money that you can afford to lose and to always gamble responsibly.
Some of the great bots you can use