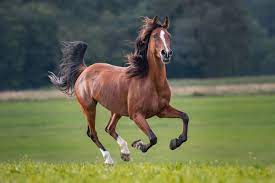 How to Pick the Winning Horse
Horse racing is a thrilling sport that has captivated people for centuries. Watching majestic thoroughbreds race down the track at breakneck speed is an exhilarating experience, and the prospect of winning money by betting on a winning horse only adds to the excitement. However, picking a winning horse can be a challenging task, especially for those who are new to horse racing. In this article, we'll provide you with some practical tips and strategies that will help you pick a winning horse and increase your chances of success when betting on horse races.
Do Your Homework The first and most important step in picking a winning horse is to do your homework. This means researching the horses, jockeys, trainers, and track conditions before placing a bet. By doing your research, you can get a better understanding of the horses' strengths and weaknesses and make an informed decision about which horse to bet on. Some ways to conduct research include reading racing programs, watching replays of previous races, checking weather forecasts, and paying attention to the betting odds.
Look for Value When it comes to horse betting, it's important to look for value. This means finding horses with good odds that offer value for the money. To determine the potential payout for each horse, you'll need to calculate the odds. The odds are determined by the amount of money that has been bet on each horse. The more money that has been bet on a horse, the lower its odds will be. You can use the odds to identify value bets by looking for horses that have good odds but are still likely to win.
Consider the Jockey and Trainer The jockey and trainer are two of the most important factors in a horse's performance. A skilled jockey can make all the difference when it comes to winning a race, and a good trainer can help a horse reach its full potential. When evaluating jockeys and trainers, look at their win percentages, experience on the track, and past successes with specific horses. A jockey who has a good track record with a particular horse may be more likely to win than a jockey who has never ridden that horse before.
Assess the Horse's Form The form of a horse refers to its recent performance in previous races and workouts. When assessing a horse's form, look at its finishing position in previous races, the quality of the horses it has raced against, and its recent workout times. A horse that has been performing well in recent races and workouts is more likely to be in good form and have a good chance of winning.
Watch the Race The final step in picking a winning horse is to watch the race itself. Pay attention to the horses' behavior, the track conditions, and the position of the jockey. Look for horses that start fast, have good stamina, or are able to maintain a steady pace. Also, pay attention to the track conditions. A horse that performs well on a dry track may not perform as well on a wet track.
Conclusion Picking a winning horse is a challenging task, but with the right strategies and a bit of luck, it's possible to increase your chances of success. By doing your homework, looking for value, considering the jockey and trainer, assessing the horse's form, and watching the race, you can improve your chances of picking a winning horse and enjoy the excitement and rewards of horse racing.
In today's digital age, there are many horse racing websites that can provide bettors with valuable information and help them place bets online. Here are some of the top horse racing websites that you can use:
TVG TVG is one of the most popular horse racing websites in the United States. It offers live streaming of horse races, handicapping tools, expert picks, and a mobile app for convenient betting on the go.
Twinspires Twinspires is the official online betting site for the Kentucky Derby, and it offers a wide range of betting options, including win, place, and show bets, exacta and trifecta bets, and more.
DRF DRF (Daily Racing Form) is a leading horse racing website that provides daily racing news, expert analysis, handicapping tools, and a mobile app for easy betting.
BetAmerica BetAmerica is a popular horse racing website that offers live streaming of races from tracks across the country, as well as a variety of betting options and bonuses for new users.
Oddschecker Oddschecker is a horse racing odds comparison website that allows users to compare the odds from different bookmakers and find the best value bets.
Using these websites, bettors can stay up to date with the latest racing news and information, access expert handicapping tips, and place bets conveniently from their computers or mobile devices.
Some of our best products out here are