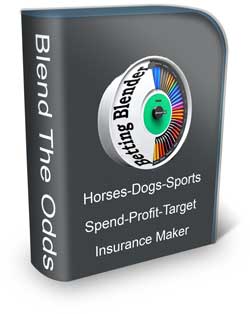 Bet with Confidence and Control : Introducing Brand New Betting Blender
Discover a Better Way to Bet with the Betting Blender
Dear reader,
We are thrilled to introduce our latest innovation in the world of betting – the Betting Blender! The Betting Blender is a powerful software that allows you to blend the stakes to your liking and bet with confidence. Our software is designed to give you the upper hand in the world of betting and help you win big.
https://winningmore.com/Blender/
With the Betting Blender, you have the power to blend the odds to your liking and choose the degree of weighting you want to support the horses, dogs or sporting events. Betting Blender offers a combination of Dutch (default option) or Hedge, which gives you the option to have one horse as insurance if your strong selection has a danger.
https://winningmore.com/Blender/
Our software is not only powerful, but it's also visually appealing, making it easy to see how the shifting of stakes can affect your returns. We offer three backing options: Spend, Return, and Profit. You can set the amount you want to spend on the event, select the amount you want to get returned to you should one of the selections win, or select the profit you want from the event if one of the two wins.
We have two staking in the excel and cloud software: Balanced Staking and Blended Staking. Balanced Staking is your Dutch return on the two selections, where you will win the same amount should either of your selections win.
Blended Staking is the magic section that you can tweak to get a return that is not balanced and is the hedging division. You can slide the slider to get a weighting on one horse over the other.
https://winningmore.com/Blender/
Our Betting Blender is the ultimate tool for anyone who wants to bet with confidence and win big. It offers unmatched versatility, performance, and results. With the Betting Blender, you can make informed decisions and take control of your bets.
https://winningmore.com/Blender/
Don't miss out on this opportunity to revolutionize your betting game. Get your hands on the Betting Blender today and start winning!
Thank you for your time and your support
Cheers
Michael
PS : Inplayfootballbot results updated
Latest February March 2023
£158.40 in 31 days hands free. Using £1.00 Target staking